Our History
In 1917, Joe and Edward Neumeier started Independent Roofing and Siding in Milwaukee, Wisconsin. After experiencing success in Southern Wisconsin, they decided to expand to the Upper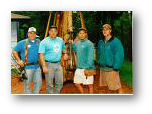 Peninsula, and in 1930 a full service roofing company expanded to Menominee, MI and a satellite company was opened in Escanaba by Charles Neumeier.
Fast-forward to 1947, when Frank Neumeier was mustered out of the U.S. Army after serving with distinction for several years in the European Theater of Operations. Frank and his wife, Ruth, had saved money while Frank was in the Army, and decided to move to Escanaba to be partners with Frank's brother Charles, becoming a full-service roofing and siding company. Frank and Ruth settled in Escanaba and raised their family of four children there.
In 1964 their oldest son, Paul, began working at Independent Roofing and Siding while attending high school and then Michigan State University. In 1972 Paul bought his uncle Charles out, becoming partners with his father. For the next 10 years Paul became the premier roofer in the Upper Peninsula, and in 1982 became President of Independent Roofing and Siding, a position he holds to this day. It remains a family business, with Paul's two sons, Jason and Nathan, working with their father to bring Independent Roofing into the 21st Century.
Independent Roofing and Siding has been the leader in residential and commercial roofing in the Upper Peninsula for 75+ years, working on some of the biggest projects of the time. They have extensive experience in building and remodeling schools, hospitals, churches, restaurants, prisons, paper mills, and many, many homes. Big or Small, we top them all!